Welcome to Styling Sessions! In this blog post series, Amanda chooses an outfit/clothes for each member of The Twin Trio for a certain event or occasion. With it being Halloween, Amanda has chosen three costume ideas each for Ashley, Carly, and herself.
Ashley
Costume 1: Newsie
This idea comes from one of my and Ashley's favorite Broadway musicals, Newsies. (In fact, Carly took us to see a regional performance of it last Christmas!) In case you don't know, a newsie is someone who sells newspapers. Back in the late 1800s and early 1900s when newspapers weren't delivered to you and pennies were worth a lot, newsies sold them on the streets. They often wore hats like the one pictured above, which is why they're now referred to as newsboy caps.
Anyway, in the Broadway musical Newsies, the newsies all wore pretty much the same thing. It was usually a button up shirt with suspenders and/or a vest with pants, lace-up ankle boots, and a newsboy cap. Several of them had plaid pants, vests, or caps, so whenever Ashley and I see plaid pants that are black/grey/brown, we think of them as Newsies pants. Dressing up as a newsie would be pretty easy as some of these items may already be in your closet. If not, they're pretty easy to find. Wear these items and roll up a newspaper, and you're a newsie!
Costume 2: Troy Bolton from
High School Musical
I easily came up with three costume ideas for myself and Carly, but I had trouble picking a third one for Ashley. I knew it should be sports-related because she loves sports ― basketball especially ― but I didn't want it to be something super plain and simple like throwing on one of her NBA jerseys and being that basketball player. Then I thought of the perfect sports-related costume: Troy Bolton from High School Musical (aka the greatest Disney Channel Original Movie ever).
It's perfect because she likes to say that she's basically the fangirl version of Troy Bolton because of her love for basketball and newfound interest in Broadway and musical theatre. She already has red basketball shorts and more than enough basketball shoes to pick from, so all she would need to complete the costume is a Troy Bolton jersey. The particular jersey I chose is a replica of the jerseys from High School Musical 3, which are cooler and more fun than the ones in HSM, so I picked that one. That's pretty much it because it doesn't get more perfect than this for her.
Costume 3: Grumpy Bear from Care Bears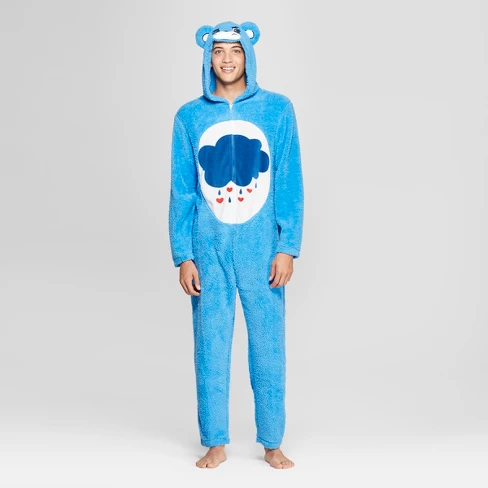 When I was thinking of costume ideas for this post, I randomly got a great group costume idea after I watched one of Michael Dameski's Instagram lives. He, Charity Anderson, and Jaxon Willard (who are all from World of Dance and are currently on the World of Dance Live tour right now) all had Care Bear onesies on. He wore the Grumpy Bear one, and I think Charity wore the Share Bear one while Jaxon wore the Love-a-Lot Bear one.
Ashley and I had seen these onesies before and have wanted one, but once we saw the Instagram live, I said we should all get these. The main reason I chose Grumpy Bear for Ashley is because she would prefer his blue to Love-a-Lot's pink or Share Bear's light purple, but she and I both agreed she would be Grumpy. I mean, we're all Grumpy sometimes, right? Anyway, Ashley and I actually just bought the Grumpy and Love-a-Lot onesies last week, so we could actually wear them on Halloween if we want!
The great thing about these onesies, though, is that I think all three of us would actually quite enjoy the fun and playfulness of them as well as the obvious comfort factor because we're definitely the type of people who'd prefer to stay in, eat candy, and watch movies on Halloween than go out and party. So these onesies are perfect.
Ashley's thoughts:
It's rather ironic that Amanda chose Troy Bolton as my last choice, because I had just thought about it before finding out she chose it. Talk about twin telepathy. (It's real!)
Amanda was spot on with the choices, especially given the fact I 1. guessed that a newsie would be one of them (Newsies forever!), 2. felt Troy Bolton would be a perfect choice given the fact I refer to myself as the "fangirl version of Troy Bolton", and 3. bought myself the Grumpy Bear onesie just last week. If I were going to dress up for Halloween or go to a costume party, dressing up as a newsie or Troy Bolton would be among my first choices. I wouldn't mind wearing the Care Bears onesie as a costume either, but I'd probably be less likely to wear it outside out of fear for ruining it or wearing it out.
Carly
Costume 1: Ravenclaw Hogwarts student/Hermione Granger
Anyone who knows Carly knows she loves Harry Potter, so an obvious costume choice for her is a Hogwarts student. Her favorite house is Ravenclaw, and she's a Ravenclaw, so she could go as a Ravenclaw. But I also know she loves Emma Watson and Hermione, so she could also go as Hermione. I'll leave that up to her and what she would feel like doing.
So for either option, all she would need is the right Hogwarts robe, black pants and shoes, a white button up, and the corresponding tie. (The nice thing about this for Carly is that I'm 99% sure she would fit in a child size Hogwarts robe, which is much cheaper than an adult size one.) If it's colder or if you just felt like it, you could add a scarf in house colors to bundle up. For Hermione, I would add some books to carry around to achieve maximum Hermione vibes.
Costume 2: Belle from
Beauty and the Beast
Although I've never actually asked Carly who her favorite Disney princess is, I've always known it was Belle because it just makes sense. Belle loves to read, is kind, and doesn't judge people―just like Carly. It also doesn't hurt that Emma Watson played Belle in the live action movie.
I know Carly's a girly girl at heart and doesn't mind wearing dresses, but what would she actually do with Belle's village dress if she owned it? Carly would not like the idea of buying something just for one occasion unless it were a wedding dress or something really, really special. So the great thing about this Belle costume I put together for her is that it's full of clothing items she would actually wear more than once.
The Belle "dress" is actually an apron I saw at the Disney store. How cute is that! It's just as cute as the dress Belle wears in her village when everyone's singing about how they think she's weird, but it's so much more useful. Who doesn't need an apron? I know Carly cooks, so I'm sure she could use one. For the rest of the outfit, all she'd need are a white long sleeve shirt, black leggings, and black flats ― all nice and simple and easy to find. But to complete the costume, I would definitely include a book ― just one as Belle carries only one during the opening song in the movie.
Costume 3: Share Bear from
Care Bears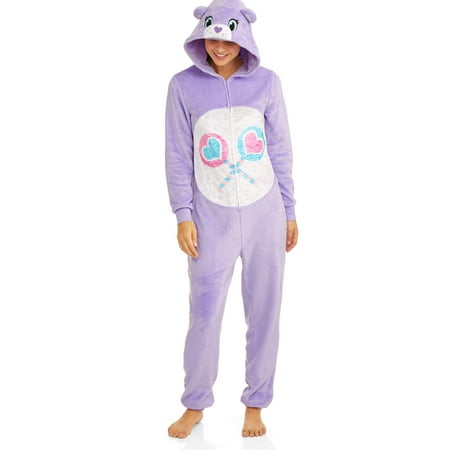 First, if you didn't read the paragraphs under Ashley's third costume, go do that and then come back here.
Okay. So I chose this one for Carly for two reasons. One: I know she likes purple. She probably likes purple the best out of the three of us. Two: She gets Share Bear by default because we all know I get first dibs on anything pink (like Love-a-Lot Bear), but they're all okay with it.
Anyway, I think we can all agree cute Care Bear onesies would be fun to have and wear at nights while watching movies or reading books, especially reading books because it's hard to read a book if you're cold and using a blanket because where do you put your arms to keep them warm but you have to hold the book? Yup. I can definitely see Carly using this Care Bear onesie as not only an easy costume but something to wear to stay warm while reading.
Carly's thoughts:
When we discussed doing a Halloween styling session, I was super excited to see what costumes Amanda would pick out for me. No matter what the theme, she always exceeds my expectations, and so I was very intrigued to see what she might choose, given the fact that she's knows I'm not a big dress up/costume person.
In the past I've always been a gymnast or an ice-skater with some type of outfit that I've had on hand, and so Amanda's three choices were a really exciting change of pace! I obviously love the Harry Potter costume, and if I were dressing up this year, that would be my first choice! While I'd love to be as special and cool as Hermione, I'd have to go with the Ravenclaw student option because it suits me a little better. I do already have a Gryffindor scarf and hat, though, so if I were being practical that might be the easier option.
I kind of thought Amanda might pick a Disney princess for me, and she made the absolute perfect choice with Belle! I absolutely idolized Belle growing up and definitely identify the most with her character. I also think this particular costume, as an apron, is so fun and cool! I would totally wear it again and again—especially because I don't actually own an apron!
I don't think Amanda actually knows this, but I was a major Care Bears fan growing up. I owned a ton of the dolls and loved watching the movies. I think it would be super fun if we each dressed as one for Halloween, and I kinda regret that we didn't do that together while we had the chance! Share Bear is certainly a great choice, and Amanda is absolutely correct in that purple is one of my favorite colors―I own so much purple, so this would be perfect! Plus I don't have any onesies, and I secretly want one. 🙂
Amanda
Costume 1: Lara Jean Covey from
To All the Boys I've Loved Before
If you don't know who I'm talking about with this costume, then I would like to kindly suggest you go to Netflix and watch To All the Boys I've Loved Before. Actually, I would like for you to please read the book and then watch the movie, but just watching the movie is fine for the purposes of understanding this costume.
So if you didn't already know, To All the Boys I've Loved Before has quickly become my favorite movie. I finally got around to reading the book trilogy a month or so before the movie came out, and Lara Jean is probably my favorite fictional character ever for lots of reasons, but this isn't the place for that. (And I already did that somewhere else.) I easily fell in love with Lara Jean's fashion sense upon watching the movie. It's a unique combination of trendy, vintage, and classic, and I could totally see myself wearing her clothes. In fact, I actually bought myself an outfit just like hers and wore it when I went to see Hamilton.
Dressing as Lara Jean is quite easy, and you could wear many of these clothing items for everyday use. The outfits I put together above are copycat versions of outfits from the movie. BuzzFeed even made a listicle of all the outfits she wears, so you can take your pick of which you'd like to copy! The one on the left is like outfit 6, her airport outfit (which I replicated to see Hamilton) and is one of the most colorful outfits she wears. It's simple. It's cute. It's comfy. All you need is a colorful striped sweater or long-sleeved shirt, a button-front denim skirt, and black sneakers. I chose black platform sneakers because Lara Jean likes platforms and wears similar shoes in the movie.
The second is a copycat of outfit 11, which she wears after rolling out her bedroom window and to the diner when she runs into Peter. Like the first one, it's simple, cute, and comfy. Lara Jean is a fan of those three elements but also likes to dress it up a bit by wearing skirts and dresses often. White sweater/long sleeve, burgundy skirt, and burgundy sneakers. Easy! But to complete a Lara Jean outfit, you need a heart locket necklace. She wears it pretty much all the time.
I chose two similar outfits because those are the easiest to replicate, but it's not very difficult to dress up as Lara Jean. She likes to wear skirts, dresses, overalls, chokers, and of course, scrunchies. She also likes florals, bows, and vintage details. Her outfits are never really edgy but may include a hint of edginess, like the lace-up boots she wears on the first-day of school. Otherwise, her style is a mix of vintage meets trendy.
Costume 2: Veronica Lodge from
Riverdale
The second costume I chose for myself is another one of my favorite characters from pop culture, Veronica Lodge from Riverdale. I've adored Veronica since I first watched the series premiere nearly two years ago. Her style automatically made her stand out in the show, as she's an NYC girl living in small town Riverdale. She's chic, sophisticated, luxurious, and stylish.  If you're familiar with Gossip Girl, Veronica's style is similar to Blair Waldorf's, think Kate Spade meets Chanel but with edge.
I put together two outfits that could be Veronica Lodge costumes. It's actually really easy to make a Veronica costume out of clothes you can find at normal mall stores. Her wardrobe staples include structured skirts and dresses, collared and tie-neck blouses, fitted sweaters in black and jeweled colors, Louboutin heels, and a pearl necklace, of course.
Black is a go-to color for Veronica, and like her fashion sense, it never goes out of style. Textures and prints like velvet and suede and houndstooth and plaid are also very Veronica. So I thought using black and white as the main colors for this costume would be a good idea. I love the bow on the skirt for the left outfit, as it adds that Kate Spade flair Veronica has, and the satiny heels are the perfect combo of classic and chic. I love the plaid tie-neck top and think it really channels the NYC schoolgirl in Veronica. The black velvet heels are perfect for Veronica because they're chic, classic, and sophisticated.