Welcome to Styling Sessions! In this blog post series, Amanda chooses an outfit/clothes for each member of The Twin Trio for a certain event or occasion, and Ashley and Carly share their thoughts on what Amanda chose. In honor of prom season, Amanda will style Ashley, herself, and Carly for prom this year.
Ashley
Ashley is not much of a dress person and would still prefer to wear nice, cool pants as opposed to dresses, but has definitely grown in her aversion to dresses. When it comes to special occasion dresses, I see Ashley as a black/green/blue person. She doesn't like slits, strapless dresses, lots of sequins, or any tight fits like mermaid. Mesh cutouts and cool back details are more her style.
While Ashley isn't a big fan of sequins or beading, I think she would be fine with the relatively small amount on this dress. The mesh overlay is definitely her style, and the embellishments create a cool design that add some dark sparkle to the dress. The halter-style top provides support and ensures she won't be pulling her dress up all night. Best of all, this dress has pockets!
I know this dress definitely has a lot of beading and embellishments, but Ashley could forgive it in exchange for an awesome and intricate design like this. Gold and black is one of Ashley's favorite color combos, especially when it comes to special occasion dresses, and it works so well here, really making the beaded design pop. It's got sleeves, so there's no need to worry about a special bra or pesky straps. She'll be upset this doesn't have pockets but will be glad it's got a pretty straight yet flowy skirt that allows her to easily move.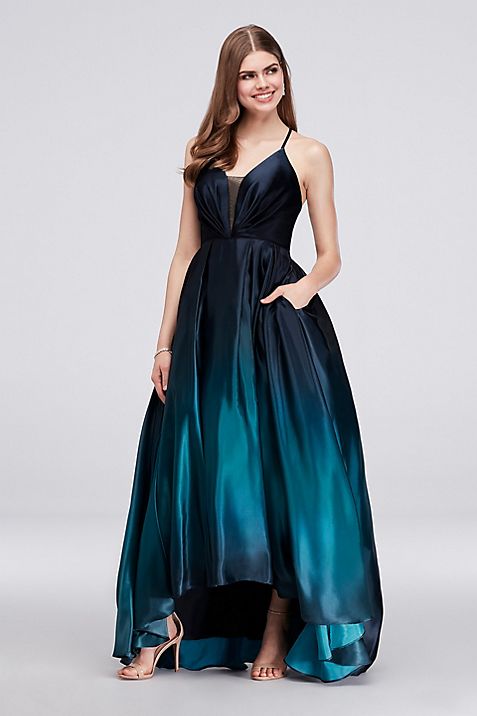 This is a bit of a risky choice, but I decided to go for it and choose it for Ashley. It's rather plain in terms of it just being an ombre dress with not much else going on other than some mesh at the plunging V-neck, but Ashley isn't into a lot of frills or anything. The navy to turquoise ombre is definitely fun, and Ashley likes these colors as well as cool gradients. It does have pockets, which is awesome! It says it's a high-low dress, which Ashley doesn't really care for, but this is so slight I don't think she'll mind. Find some cool shoes to go with this, and she could show them off a bit.
Ashley's  Thoughts:
I'm most definitely not a girly-girl and very much so a tomboy who would live in T-shirts, basketball shorts, crew socks, and sneakers for the rest of my life if I could. I've never been very fond of wearing dresses, but I've grown to be okay with dressing up if necessary and if I like my outfit enough.
That said, it can be really difficult to find a dress I truly like. I don't like my dresses to be overly plain and simple, but I also don't like for them to have too much going on. I also prefer wearing darker colors and just look better in darker colors. So, overall, Amanda did a good job picking prom dresses out for me.
I really like the mesh overlay and details in the first one, and the pockets are a big plus. The ombre base in the last one is really cool, and I don't mind the slight high-low style. The second one is nice, but it does have a lot of embellishments going on. I do love the gold and black color combination, though, and don't overly mind all the beading and whatnot. But it'd probably be one of those dresses that I don't love but would try on anyway because I'm intrigued. The first one is probably my favorite of the three, because you can't go wrong with black, and the mesh overlay really is something I love on dresses. But the third one has potential and would really depend on how I felt in it.
Carly
I actually don't know much about Carly's style when it comes to special occasion dresses, but based on what I know about her everyday style and the dresses I have seen her wear, I think the dresses she'd like are sweet and simple. But I don't think solid color dresses are quite her style, so when I say simple, I mean that more in terms of the overall design. Ball gowns and tighter fits like mermaid are a bit much for her and don't really suit her. Based on her past prom dresses, I know she doesn't mind sparkle but doesn't want too much. Also, I just have this feeling she's not a fan of strapless. For colors, I think more pastel colors, especially pink and purple, fit her well.
Most of the dresses I chose for Carly are actually pretty similar in design, with a somewhat jeweled bodice and a flowy, straight, light skirt. Carly's favorite is actually pink, although it's not easy to tell―especially when you're friends with a pink lover like me. But lighter pink seems to be more her style, hence the color choice here. The bodice has a pretty lace overlay that's more contemporary than girly and small rhinestones throughout to add some shine. Combined with the plain skirt, I think this dress is a good balance of sweet and simple.

While this dress is quite similar to the previous pick, it's got its distinctions to set it apart. The halter neck gives the bodice a bit of a different shaped, and it's jeweled to add some shine. The lace overlay on this bodice is definitely more feminine and girly, as it's a more traditional floral lace with some shiny threads and rhinestones all over it as well. But there aren't a ton of rhinestones that can make dresses heavy or super sparkly. I'm not sure I've ever seen Carly wear purple, but I know she likes the color because she used to have a light purple phone case. The A-line skirt is made of chiffon, so it's nice and light and fun to twirl in. It's got a small train in the back that flares out a bit but isn't extravagant like a wedding dress train can be.
Honestly, I would have chosen a different dress for the third pick if this didn't have pockets. 😂 In case you didn't know, all three of us love dresses with pockets and wore dresses with pockets for graduation last May. I have even sent Ashley and Carly wedding and bridesmaid dresses with pockets for future reference.
Anyway, I think this is a very sweet, simple, and elegant dress. This is the sparkliest of all her picks, but even though the bodice is full of sequins, it doesn't look overdone and wouldn't be heavy. The leaf/floral pattern of the sequins is beautiful and adds to the elegance of the dress. Along with the thin straps and blush color, I feel like this gives off a mature yet still young vibe that I think Carly would look for in a special occasion dress nowadays.
Carly's Thoughts:
I am probably the least fashion-minded of the trio and don't particularly take joy in clothes shopping. However, I do love the idea of getting dressed up and wearing something beautiful. I'm a girly-girl at heart, just like Amanda, and I enjoy all things pink, lace and sparkly, yet I only wear such things on occasion. Amanda chose three dresses that suit my style perfectly!  I wish she could have been there when I was roaming the the aisles of Macy's four years ago looking for my actual prom dress.
The first piece is probably my favorite, because it is just so simple and elegant. Amanda was spot on with her description of my style. I could see myself wearing any one of these dresses to a fancy event, and I've bookmarked them all for future reference!  
Amanda
Last, but not least, are my picks! When it comes to my style and special occasion dresses, I ideally want a little bit of everything: I love lace, florals, and rhinestones. However, I'm not a big fan of ball gowns, mermaid, or anything that's a tighter fit. I just feel like ball gowns are too big and anything tighter that an A-line or fit-and-flare is too tight because I want some room for my legs to breathe, and I'm clumsy. (Honestly, I'd probably fall over in a mermaid dress.) Also, I don't like strapless dresses much because I really don't want to have to be pulling up my dress all the time. And unlike Ashley and Carly, who I don't think care much for two-piece dress sets, I absolutely adore them! And of course, everything I chose was pink or had a lot of pink because I love pink.
Anyway, it was obviously much easier to pick my own dresses than theirs because I know what I like. I actually found way too many I liked but actually kind of cheated with one of my picks because I did a blog post on my personal blog featuring 10 prom dresses I'd want to try for prom this year. (That post is actually what inspired this one!)
The only thing that would make me love this dress even more than I already do would be some rhinestones, pockets, and a pink top instead of white. Otherwise, I still really like it. The white and pink pop so well off each other, and the color combo just makes it look so fresh and bright. The halter/racer neck with the small cutout of the top is a fun touch that makes it different. The floral print is so fun and pretty.
This is essentially the slightly different but more affordable version of the first dress. The pink crop top is simple but still cute, and the satin finish material makes it less boring. Plus, I love hot pink. I do wish it had some rhinestones somewhere, like maybe at the bottom or at the neckline, but it's forgivable and makes it more affordable. The floral print for this one is smaller and covers more of the skirt but is still fun. And best of all, it has pockets!
This dress was actually a last-minute find for me while looking for Ashley and Carly. I didn't expect to be choosing a dress that was very black but here I am. Also, I know it says it's a ball gown dress, but it really doesn't look like one, so I'm cool with it.
Anyway, I love the black lace bodice. It's pretty and delicate. The skirt is just stunning with the different pink-colored florals all over, and the print just looks so dramatic and bold against the black. I like that the skirt also seems to be high-waisted because I love a high waist. And last, but definitely not least, are the pockets! The pockets are just the cherry on top!